Born in Vermont and based in Memphis, Alice Hasen is a professional violinist, recording artist and songwriter.  She leads Alice Hasen & the Blaze and is part of the Blackwater Trio, an acoustic rock band. Alice is known for her unique playing style, which combines the virtuosity of her classical upbringing with the freedom and creativity of improvisation.  She has been called "one in a million" by Alan Rowoth, founder of folkmusic.org, and "a monster talent" by Jim Hurst, nationally-acclaimed guitarist.  She is most at home at the crossroads of genre, pushing the traditional sounds of violin and fiddle out of their comfort zones and into the realms of jazz, pop, funk and rock.  In September 2019, Alice released her debut solo album, "Violintro," which features songs written and co-written by Alice, and performances by Memphis musicians.  Bluff City Life called Violintro "an impressive showcase of the sheer breadth of Hasen's talents across all genres... Hasen has made her Violintro as an emerging star."  Ric Chetter of Radio Memphis called it "one of the most dynamic sounds out there."
Beginning her studies at the age of four, Alice's primary musical background is in the classical tradition.  Prompted by her mother, a flutist in the Vermont Symphony Orchestra, Alice took classes in fiddle music, where she learned to play by ear at Vermont's many contradances and barn parties. She played in the Vermont Youth Orchestra throughout high school, performing in China and Carnegie Hall.  In her senior year Alice played as the Co-Concertmaster of the VYO and won the orchestra's Hermance Prize for her performance of the Sibelius Violin Concerto.
Between 2008 and 2012, Alice studied French and Music at Yale University.  She became Principal Second Violin of the Yale Symphony Orchestra, while also leading as Concertmaster of the Saybrook and Berkeley college orchestras.  She was a founding member of SIC INC, a contemporary music group of student performers, composers, dancers and sound engineers. Her travels within these groups spanned from a second appearance at Carnegie Hall to Le Poisson Rouge in Manhattan, as well as a tour of major cities in Turkey.
Alice's years after Yale mark her transition into the rootsy, lyrical voice she has developed as a non-classical musician.  Moving down to Clarksdale, Mississippi to teach as a high school band director, she made friends in the local music scene and formed the Blackwater Trio.  The trio, which features heavy three-part harmonies as well as a large dollop of fiddle, performs throughout the Mid-South and tours the Northeast annually.  Alice's violin, vocals and songwriting play a large part in Blackwater Trio's full-length album, Cheshire Moon (August 2017).
Alice's solo project, Alice Hasen & the Blaze, showcases the versatility of her songwriting and playing.  Her "fiddle-powered groove band" is rooted in the Memphis heritage of funk, rock and jazz but can stray into pop, hip-hop and even reggae territory.  Alice plans to explore all of these and more in her debut EP, "Violintro," which will be recorded in Memphis in March 2019.
In the media, Alice has appeared on Memphis' WREG News Channel 3, Thacker Mountain Radio of Oxford, MS, and in Delta Magazine.  She was featured in 2018 as a solo artist in Ranger Bluegrass Festival of Senatobia, MS, alongside Missy Raines, Mike Compton, Joe Newberry and the Barefoot Movement.  She has also performed in Memphis' 2018 Indie Film Festival and Shangri-La's 30-Fest, presented by Shangri-La Records, and in RiverArts Fest in 2016. In 2014, Alice performed in the Telluride Blues & Brews Festival with singer-songwriter John Mohead.  Alice has shared the stage with Rock & Roll piano legend Jason D. Williams, The Weight (touring members of The Band), recorded for Tomiko Dixon (granddaughter of Willie Dixon) and opened for Jim Hurst (guitarist for Claire Lynch and David Grisman), just to name a few.  A complete listing of her media features and performances with Blackwater Trio can be found at blackwatertrio.com.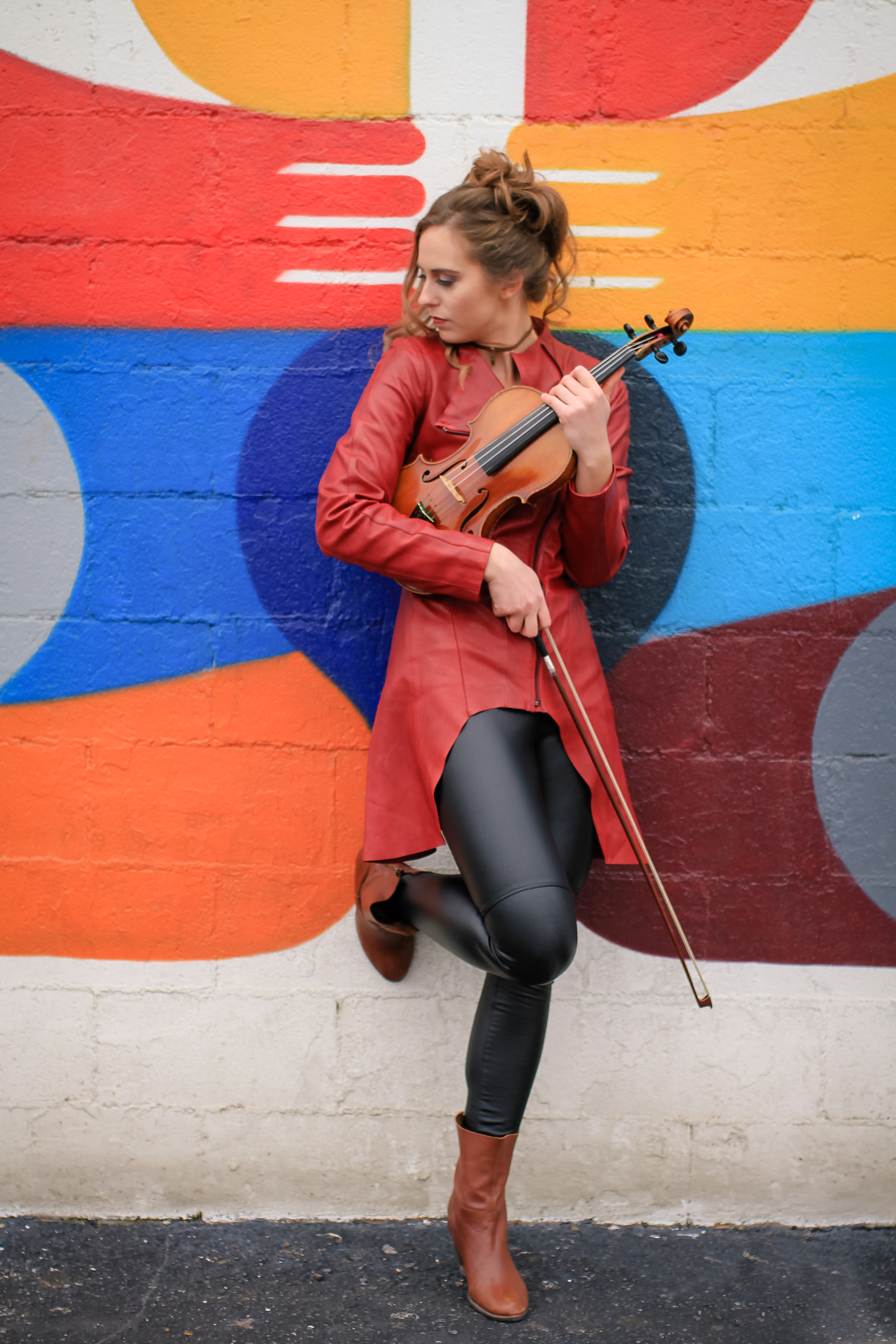 MEDIA LINKS:
CanvasRebel: Meet Alice Hasen (Jan 2023)
VoyageSTL: Life And Work With Alice Hasen (July 2022)
The Memphis Flyer: Alice Hasen Releases New Album "Violintro" September 2019
The Commercial Appeal: Cooper-Young Festival Acts September 2019

Alice Hasen: Soulful Music With Classical Inspiration (Delta Magazine, March 2017)




NOTABLE PERFORMANCES AND FEATURES:
Folk Alliance International Official Showcase - Kansas City, MO - February 2023
The Green Room at Crosstown Arts - Memphis, TN - 2020-2022
River Arts Festival - Memphis, TN - October 2022
Indie Memphis Film Festival - Memphis, TN - 2019 - 2022
Otherfest - Marigold, MS - October 2022
Octoberfest - Cleveland, MS - October 2022
Mighty Roots Festival - Stovall, MS - September 2022
AmericanaFest (with Rachel Maxann) - Nashville, TN - September 2022
Germantown Performing Arts Center - Germantown, TN - June 2022
Oxford Grove Summer Sunset Series - Oxford, MS - June 2022
Morgan Freeman's 85th Birthday Party - Clarksdale, MS - June 2022
Valerie June tour (with Rachel Maxann) - May 2022
Thacker Mountain Radio – Oxford, MS – Multiple dates throughout 2017-2022
South Main Sounds Songwriter Series - Memphis, TN - Multiple dates throughout 2018-2022
Music My Mother Would Not Like Virtual Show - April 2022
Dallas Cowboys Stadium (w/Jason D. Williams) - Dec 2019
King Biscuit Blues Festival - Helena, AR - October 2019
Ranger Bluegrass Festival - Senatobia, MS - October 2018, 2019
Cooper-Young Festival - Memphis, TN - Grizzlies Stage Headliners - September 2019
B-Side Memphis - September 2019
Radio Memphis - September 2019
Live @9 on WREG Channel 3 -  October 2018, September 2019, October 2019
Bluff City Life on WMC Action News 5 - August 2019
Squidbillies Opening Song (w/Jason D. Williams) - August 2019
The Hi-Tone Cafe - July 2019
Hey Joe's – Cleveland, MS – June 2019
Juke Joint Festival – Clarksdale, MS – April 2014, 2015, 2016, 2017, 2018, 2019
Shangri-La 30-Fest - October 2018
Indie Memphis Film Fest - October 2018
Delta Magazine Article Feature – MS Delta & Memphis – March 2017

RiverArts Fest -- Memphis, TN -- October 2016
Center for Southern Folklore – Memphis, TN – April 2016
Telluride Blues and Brews Festival - Telluride, CO, September 2014