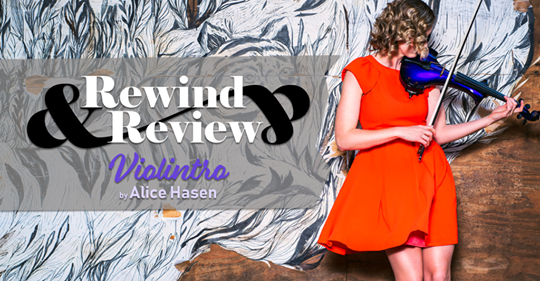 Rewind & Review: Violintro by Alice Hasen 
By Brandon McAninch 
Bluff City Weekend - Oct. 23, 2019
Violintroducing… 
If you're invested in the Memphis or North Mississippi music scenes at all, there's a decent probability you've seen or heard Alice Hasen in action. She makes up ⅓ of the folk-Americana outfit Blackwater Trio, is a staple of Tony Manard's Big Ole Band, and occasionally accompanies Jason D. Williams and so many more. Her violin (and fiddle) talents find her traversing almost all genres from classical to bluegrass, Celtic to rock 'n roll, jazzy, funky, and all the in-between. 
But recently Hasen has taken on a new sort of challenge: a solo project. The aptly named Violintro offers an introduction to Hasen's music as the sole creative lead. Violintro also features a hefty support cast: Carlos Gonzales and Walt Busby on guitar, Lannie McMillan and Vinnie Manard playing keys, Andrew Geraci on bass, Zechariah Tillitson holding down percussion, and Angela Blair providing back up vocals. Two tracks feature rapper Gospel of Rufus as a co-writer along with Hasen's boyfriend (and Bluff City Weekend's own) Brandon McAninch. Mixed by Magic MiC Wilson at Ardent Studios, Violintro lives up to its name as Hasen absolutely makes her grand entrance as her own star. 
Good Vibe-olins 
Violintro opens with a classically informed cadenza where Hasen's violin seems to be wandering through some misty forest trying to find itself, its sound. The gentle ups and downs of the melody lands like a dove on one last held note before kicking into the much more upbeat "Boots 'n Cats", which ditches the classical tone in favor of a more dance track sound. It's here that the rest of the band joins in and the sound rounds out ever fuller with energetic drums driving it forward. 
After the seamless integration of the opening tracks, the album continues to drift in and out of the many styles Hasen has clearly come to master over the years. Be it the watery jam of "Queen", the slick vibes driving "Love Story", or her layered classical stylings in "The Depths", Violintro serves as an impressive showcase of the sheer breadth of Hasen's talents across all genres. 
Perhaps the most critical moment comes in the crux of "Memphis Sands" during which her solo whinnies like the apocalyptic horseman of Famine before breaking into the full gallop of virtuosic shredding. Whether sweet, savory, or spicy, Hasen's fiddle prowess on Violintro has something to offer for any taste. 
Oh, The Urbanity! 
Don't let Hasen's classical and folk background fool you – Memphis and its musical history have made an impact on her debut record. Most notably, the addition of Gospel of Rufus as a rapper and co-writer on "Love Story" and "Outro" give the album a few sprinklings of hip hop flair. On top of that, Angela Blair's backing vocals on "Love Story" and "Cutie Booty Boogie" add a pinch of soul to the mix, the latter seeming to have influence of the STAX sound baked into its foundation. 
Despite the more urban sound, Hasen maintains a voice of environmental consciousness throughout the album, from the abstract forest imagery of "Queen" to the admonitions of "Memphis Sands" and even in Gospel of Rufus's feature on "Outro". Coupled with the positivity of the love-centric songs and the undeniable energy found in the instrumental tracks, Hasen has made her Violintro as an emerging star with a skill set that leaves the ear wanting to know – if this was merely the introduction – where she will go from here. 
Violintro is available for streaming on Apple Music, Spotify, Soundcloud, and Google Play. You can also purchase physical and digital copies at alicehasen.com.
Photo: Photographymiyabi